This is a newspaper clipping published by the Associated Press and was found in a large collection, date unknown. Recipe is typed below along with a scanned copy.
Get yourself in a pickle
Make pickles? Of course you can. Forget the days of brining, draining and waiting of oldtime pickle making. These crisp pickles are ready in 24 hours and will keep in the refrigerator for up to one month.
Refrigerator Pickles PDQ
6 cups thinly sliced cucumbers
2 cups thinly sliced onions
1 1/2 cups sugar
1 1/2 cups vinegar
1/2 tsp. salt
1/2 tsp. mustard seed
1/2 tsp. celery seed
1/2 tsp. ground turmeric
In glass or crockery bowl alternately layer cucumbers and onions. In a medium saucepan combine sugar, vinegar, salt, mustard seed, celery seed and ground turmeric; bring to boiling, stirring just until sugar is dissolved. Pour vinegar mixture over cucumber mixture; cool slightly. Cover tightly; refrigerate pickles at least 24 hours before serving. Store up to one month in refrigerator. Makes 7 cups.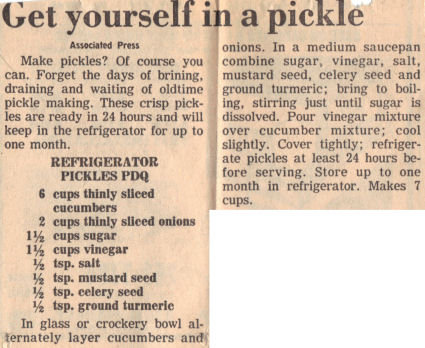 More Recipes For You To Enjoy: