This handwritten recipe card was found in a large collection, date unknown. I've typed it out below along with a scanned copy.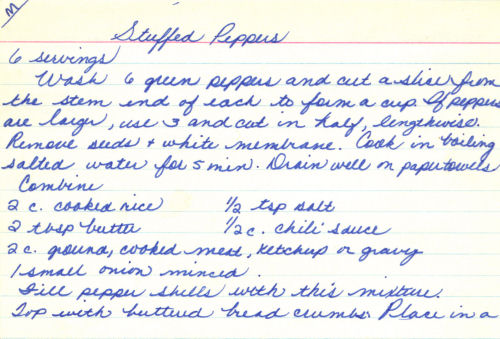 Stuffed Peppers
6 servings
Wash 6 green peppers and cut a slice from the stem end of each to form a cup. If peppers are larger, use 3 and cut in half, lengthwise. Remove seeds & white membrane. Cook in boiling salted water for 5 min. Drain well on paper towels.
Combine
2 c. cooked rice
2 tbsp. butter
2 c. ground, cooked meat
1 small onion minced
1/2 tsp. salt
1/2 c. chili sauce
ketchup or gravy
Fill pepper shells with this mixture. Top with buttered bread crumbs. Place in a buttered baking dish and bake in a moderate oven 375° for 30 minutes or until crumbs are brown. Serve with additional very cold ketchup or chili sauce. Garnish with olives.
More Recipes For You To Enjoy: