This recipe was clipped from a newspaper and found in a large collection, date unknown. I've typed it below along with a scanned copy.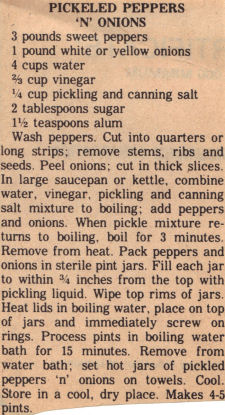 PICKELED PEPPERS 'N' ONIONS
3 pounds sweet peppers
1 pound white or yellow onions
4 cups water
2/3 cup vinegar
1/4 cup pickling and canning salt
2 tablespoons sugar
1 1/2 teaspoons alum
Wash peppers. Cut into quarters or long strips; remove stems, ribs and seeds. Peel onions; cut in thick slices. In large saucepan or kettle, combine water, vinegar, pickling and canning salt mixture to boiling; add peppers and onions. When pickle mixture returns to boiling, boil for 3 minutes. Remove from heat. Pack peppers and onions in sterile pint jars. Fill each jar to within 3/4 inches from the top with pickling liquid. Wipe top rims of jars. Heat lids in boiling water, place on top of jars and immediately screw on rings. Process pints in boiling water bath for 15 minutes. Remove from water bath; set hot jars of pickled peppers 'n' onions on towels. Cool. Store in a cool, dry place. Makes 4-5 pints.
Please read the Safe Canning & Food Preservation section if planning on canning this recipe.
More Recipes For You To Enjoy: