This recipe was clipped from a magazine and found in a large collection, date unknown. Recipe is typed below along with a scanned copy.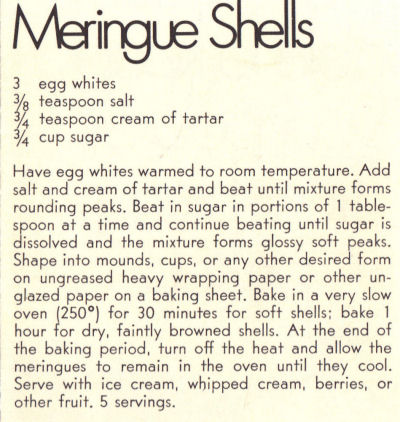 Meringue Shells
3 egg whites
3/8 teaspoon salt
3/4 teaspoon cream of tartar
3/4 cup sugar
Have egg whites warmed to room temperature. Add salt and cream of tartar and beat until mixture forms rounding peaks. Beat in sugar in portions of 1 tablespoon at a time and continue beating until sugar is dissolved and the mixture forms glossy soft peaks.
Shape into mounds, cups, or any other desired form on ungreased heavy wrapping paper or other unglazed paper on a baking sheet. Bake in a very slow oven (250°) for 30 minutes for soft shells; bake 1 hour for dry, faintly browned shells. At the end of the baking period, turn off the heat and allow the meringues to remain in the oven until they cool.
Serve with ice cream, whipped cream, berries, or other fruit. 5 servings.
More Recipes For You To Enjoy: