This recipe was clipped from a magazine and found in a large collection, date unknown. I've typed it below along with a scanned copy.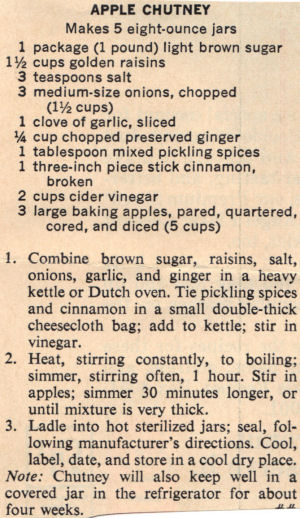 Apple Chutney
Makes 5 eight-ounce jars
1 package (1 pound) light brown sugar
1 1/2 cups golden raisins
3 teaspoons salt
3 medium-size onions, chopped (1 1/2 cups)
1 clove of garlic, sliced
1/4 cup chopped preserved ginger
1 tablespoon mixed pickling spices
1 three-inch piece stick cinnamon, broken
2 cups cider vinegar
3 large baking apples, pared, quartered, cored, and diced (5 cups)
Combine brown sugar, raisins, salt, onions, garlic, and ginger in a heavy kettle or Dutch oven. Tie pickling spices and cinnamon in a small double-thick cheesecloth bag; add to kettle; stir in vinegar.
Heat, stirring constantly, to boiling; simmer, stirring often, 1 hour. Stir in apples; simmer 30 minutes longer, or until mixture is very thick.
Ladle into hot sterilized jars; seal, following manufacturer's directions. Cool, label, date, and store in a cool dry place.
Note: Chutney will also keep well in a covered jar in the refrigerator for about four weeks.
Please read the Safe Canning & Food Preservation section if planning on canning this recipe.
More Recipes For You To Enjoy: