This recipe was clipped from a magazine and found in a large collection, date unknown but likely the 1980's or 1990's. I've typed it below along with a scanned copy.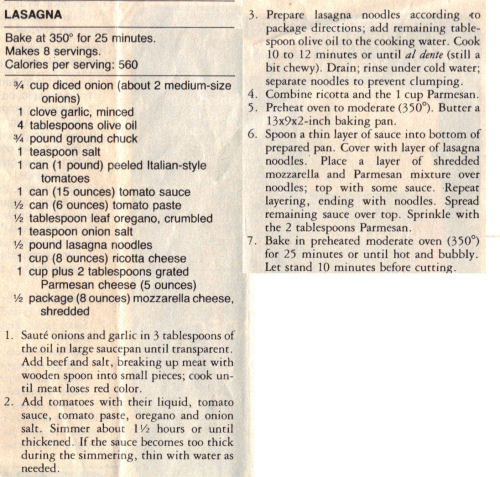 LASAGNA
Bake at 350° for 25 minutes.
Makes 8 servings.
Calories per serving: 560
3/4 cup diced onion (about 2 medium-size onions)
1 clove garlic, minced
4 tablespoons olive oil
3/4 pound ground chuck
1 teaspoon salt
1 can (1 pound) peeled Italian-style tomatoes
1 can (15 ounces) tomato sauce
1/2 can (6 ounces) tomato paste
1/2 tablespoon leaf oregano, crumbled
1 teaspoon onion salt
1/2 pound lasagna noodles
1 cup (8 ounces) ricotta cheese
1 cup plus 2 tablespoons grated Parmesan cheese (5 ounces)
1/2 package (8 ounces) mozzarella cheese, shredded
Saute onions and garlic in 3 tablespoons of the oil in large saucepan until transparent. Add beef and salt, breaking up meat with wooden spoon into small pieces; cook until meat loses red color.
Add tomatoes with their liquid, tomato sauce, tomato paste, oregano and onion salt. Simmer about 1 1/2 hours or until thickened. If the sauce becomes too thick during the simmering, thin with water as needed.
Prepare lasagna noodles according to package directions; add remaining tablespoon olive oil to the cooking water. Cook 10 to 12 minutes or until al dente (still a bit chewy). Drain; rinse under cold water; separate noodles to prevent clumping.
Combine ricotta and the 1 cup Parmesan.
Preheat oven to moderate (350°). Butter a 13x9x2-inch baking pan.
Spoon a thin layer of sauce into bottom of prepared pan. Cover with layer of lasagna noodles. Place a layer of shredded mozzarella and Parmesan mixture over noodles; top with some sauce. Repeat layering, ending with noodles. Spread remaining sauce over top. Sprinkle with the 2 tablespoons Parmesan.
Bake in preheated moderate oven (350°) for 25 minutes or until hot and bubbly. Let stand 10 minutes before cutting.
More Recipes For You To Enjoy: