This vintage recipe was clipped from a newspaper and found in a large collection, date unknown. I've typed it below along with a scanned copy.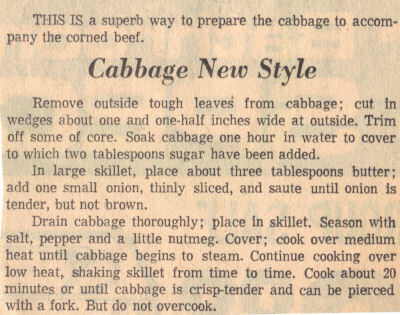 THIS IS a superb way to prepare the cabbage to accompany the corned beef.
Cabbage New Style
Remove outside tough leaves from cabbage; cut in wedges about one and one-half inches wide at outside. Trim off some of core. Soak cabbage one hour in water to cover to which two tablespoons sugar have been added.
In large skillet, place about three tablespoons butter; add one small onion, thinly sliced, and saute until onion is tender, but not brown.
Drain cabbage thoroughly; place in skillet. Season with salt, pepper and a little nutmeg. Cover; cook over medium heat until cabbage begins to steam. Continue cooking over low heat, shaking skillet from time to time. Cook about 20 minutes or until cabbage is crisp-tender and can be pierced with a fork. But do not overcook.
More Recipes For You To Enjoy: