This recipe was clipped from the Beacon Journal in Akron, OH, date unknown but likely during the ration period of WWII. Recipe is typed below along with a scanned copy.
Raisin Pudding
Mrs. Reno Rotondo
Cream 1 cup brown sugar with 2 teaspoonfuls butter alternately add 2 cups flour, 2 teaspoonful baking powder, 1 teaspoonful cinnamon, 1/2 teaspoonful cloves and 1/2 teaspoonful nutmeg, sifted together with 1 cup milk. Beat thoroughly. Add 1 cup seedless raisins floured. Put batter in greased loaf pan and pour sirup over it which has been made ahead of time by boiling 2 cups brown sugar with 4 cups water. Bake 45 minutes in a 425 degree oven. Cut and serve warm.
NOTE: If the above calls for more sugar than you can afford then use dark karo in the sirup, adding 2 cups water in place of four. We find most readers prefer sugar recipes to substitute ones, using their own judgment as to when they have sufficient materials to make the recipes.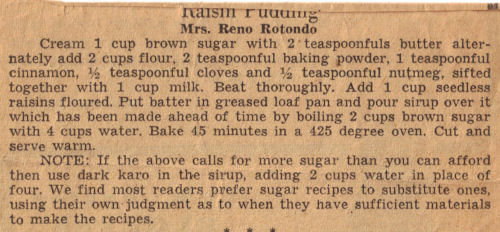 More Recipes For You To Enjoy: