This recipe for raisin-date bars comes from a holiday baking sheet titled "Celebrate the Season with Holiday Treats". This was a promo piece featuring a variety of brands: Nestle Chocolate, Sun-Maid Raisins, Peter Pan Peanut Butter, Grandma's Molasses and Gold Medal Flour. Date unknown. Recipe is typed below along with a scanned copy of the recipe and a scan of the cover (at the bottom).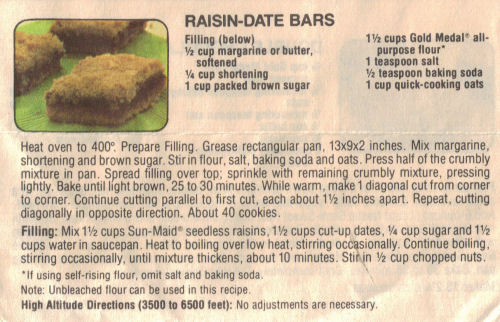 RAISIN-DATE BARS
Filling (below)
1/2 cup margarine or butter, softened
1/4 cup shortening
1 cup packed brown sugar
1 1/2 cups Gold Medal all-purpose flour*
1 teaspoon salt
1/2 teaspoon baking soda
1 cup quick-cooking oats
Heat oven to 400°. Prepare Filling. Grease rectangular pan, 13x9x2 inches. Mix margarine, shortening and brown sugar. Stir in flour, salt, baking soda and oats. Press half of the crumbly mixture in pan. Spread filling over top; sprinkle with remaining crumbly mixture, pressing lightly. Bake until light brown, 25 to 30 minutes. While warm, make 1 diagonal cut from corner to corner. Continue cutting parallel to first cut, each about 1 1/2 inches apart. Repeat, cutting diagonally in opposite direction. About 40 cookies.
Filling: Mix 1 1/2 cups Sun-Maid seedless raisins, 1 1/2 cups cut-up dates, 1/4 cup sugar and 1 1/2 cups water in saucepan. Heat to boiling over low heat, stirring occasionally. Continue boiling, stirring occasionally, until mixture thickens, about 10 minutes. Stir in 1/2 cup chopped nuts.
*If using self-rising flour, omit salt and baking soda
Note: Unbleached flour can be used in this recipe.
High Altitude Directions (3500 to 6500 feet): No adjustments are necessary.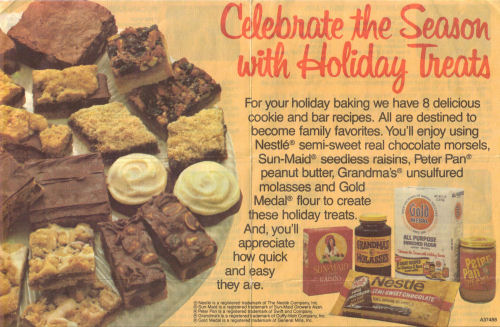 More Recipes For You To Enjoy: