This recipe is cut from cardboard packaging, maybe from a box of raisins? No date, could be 1940s – 1960s.
SUN-MAID RAISIN CRUNCHY COBBLER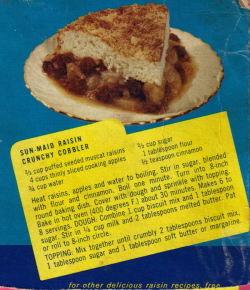 2/3 cup puffed seeded muscat raisins
4 cups thinly sliced cooking apples
3/4 cup water
2/3 cup sugar
1 tablespoon flour
1/2 teaspoon cinnamon
Heat raisins, apples and water to boiling. Stir in sugar, blended with flour and cinnamon. Boil one minute. Turn into 8-inch round baking dish. Cover with dough and sprinkle with topping. Bake in hot oven (400 degrees F.) about 30 minutes. Makes 6 to 8 servings.
DOUGH: Combine 1 cup biscuit mix and 1 tablespoon sugar. Stir in 1/4 cup milk and 2 tablespoons melted butter. Pat or roll to 8-inch circle.
TOPPING: Mix together until crumbly 2 tablespoons biscuit mix, 1 tablespoon sugar and 1 tablespoon soft butter or margarine.
More Recipes For You To Enjoy: