This recipe was clipped from cardboard packaging, probably from a box of Kellogg's Raisin Bran. Date unknown. Recipe is typed below along with a scanned copy.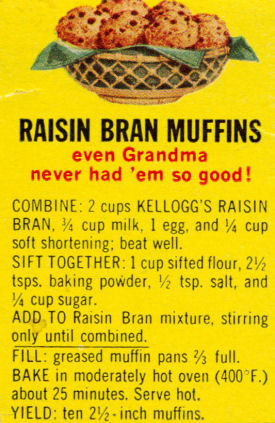 RAISIN BRAN MUFFINS
even Grandma never had 'em so good!
COMBINE: 2 cups KELLOGG'S RAISIN BRAN, 3/4 cup milk, 1 egg, and 1/4 cup soft shortening; beat well.
SIFT TOGETHER: 1 cup sifted flour, 2 1/2 tsps. baking powder, 1/2 tsp. salt, and 1/4 cup sugar.
ADD TO Raisin Bran mixture, stirring only until combined.
FILL: greased muffin pans 2/3 full.
BAKE in moderately hot oven (400°F.) about 25 minutes. Serve hot.
YIELD: ten 2½-inch muffins.
More Recipes For You To Enjoy: