This recipe comes from a Miracle Whip label that was published in 1992 and found in a large collection. Recipe is typed below along with a scanned copy.
QUICK POTATOES AU GRATIN
Prep time: 10 min.
Cooking time: 55 min.
1 package (16 ounces) frozen Southern-style hash brown potatoes
2 cups (8 ounces) KRAFT Natural Shredded Sharp Cheddar Cheese
1 can (10 3/4 ounces) cream of chicken soup
1 cup MIRACLE WHIP Salad Dressing
1/2 cup chopped onion
1/8 teaspoon pepper
2 cups crushed POST TOASTIES Corn Flakes
2 tablespoons PARKAY Margarine, melted
Heat oven to 350°F. Mix potatoes, cheese, soup, salad dressing, onion and pepper. Spoon into 12×8-inch baking dish. Sprinkle with combined crushed corn flakes and margarine. Bake 45 to 55 minutes or until thoroughly heated. Makes 6 servings.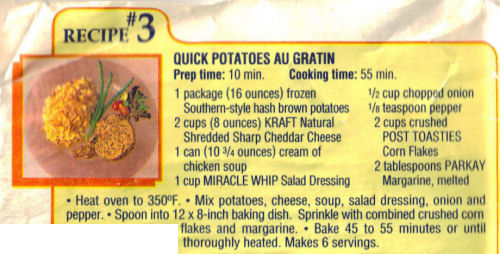 More Recipes For You To Enjoy: