This recipe was written on a slip of paper and found in a large collection, date unknown. I've typed it below along with a scanned copy.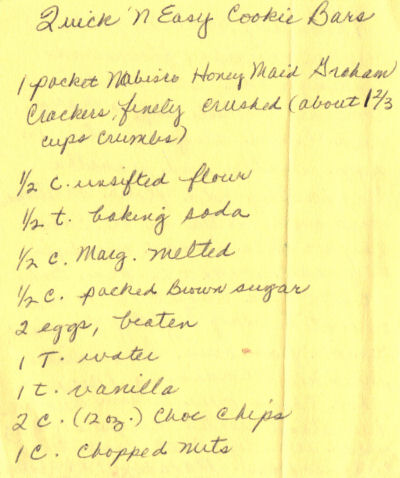 Quick 'N Easy Cookie Bars
1 packet Nabisco Honey Maid Graham Crackers, finely crushed (about 1 2/3 cups crumbs)
1/2 c. unsifted flour
1/2 t. baking soda
1/2 c. marg. melted
1/2 c. packed brown sugar
2 eggs, beaten
1 T. water
1 t. vanilla
2 c. (12 oz.) choc. chips
1 c. chopped nuts
Thoroughly combine graham cracker crumbs, flour and baking soda; set aside.
Combine melted marg. and brown sugar; stir in eggs, water, and vanilla. Gradually add flour mixture; mix well. Stir in 1 c. choc. chips & nuts. Spread evenly in a greased 13x3x2 in. pan. Bake at 375° for about 16 – 18 min. or until very lightly browned, remove from oven. Immediately sprinkle remaining 1 cup choc. chips over warm surface. Let stand until chips soften; spread evenly. Cool completely, cut into bars. Makes about 24 – 2 in. bars.
More Recipes For You To Enjoy: