This handwritten recipe comes from a large collection, date unknown. Recipe is typed below along with a scanned copy.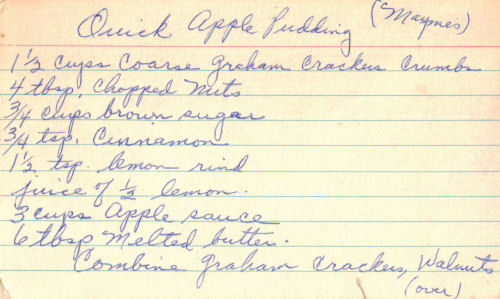 Quick Apple Pudding (Mayme's)
1 1/2 cups coarse graham crackers crumbs
4 tbsp. chopped nuts
3/4 cups brown sugar
3/4 tsp. cinnamon
1 1/2 tsp. lemon rind
juice of 1/2 lemon
3 cups apple sauce
6 tbsp. melted butter
Combine graham crackers, walnuts, sugar, cinnamon, lemon rind. Pour apple sauce in shallow dish. Sprinkle with graham crackers mixture. Pour melted butter over top and sprinkle lemon juice over top of graham cracker. Bake in hot oven 400° for 20 min. Serve with whipped cream.
More Recipes For You To Enjoy: