This recipe was clipped from the Akron Beacon Journal, date unknown. Recipe is typed below along with a scanned copy.
PUMPKIN SQUARES
1 box yellow cake mix, minus one cup (do not use pudding cake)
1 stick oleo
1 egg
1 large can pumpkin (29 oz.)
2/3 cup evaporated milk
3/4 cup sugar
4 eggs
1 tsp. cinnamon
Combine cake mix, oleo and egg and mix throughly with fork. Spread in a 9-by-13-inch greased pan and bake at 350 degrees for 10 minutes. Filling: Mix together pumpkin, milk, sugar, eggs and cinnamon. Pour into crust. Topping: Combine one cup cake mix (saved from above) and one tablespoon melted oleo. Mix to crumb consistency and spread over filling. Bake for 60 to 65 minutes at 325 degrees. Cool before serving, then cut into small squares. Refrigerate after cool to keep firm.
The home economist from the University of Akron Department of Home Economics and Family Ecology who tested this recipe suggests you might want to add nutmeg, ground cloves or additional cinnamon to the filling. Add enough to suit your individual and family tastes.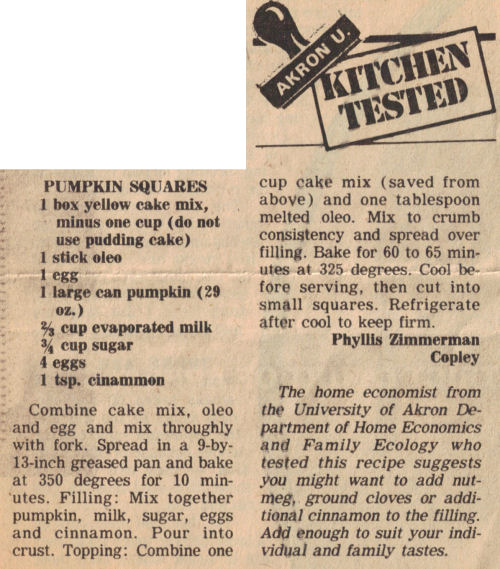 More Recipes For You To Enjoy: