Undated clipping pasted on an index card. May be from packaging of some kind.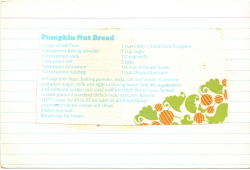 Pumpkin Nut Bread
2 cups sifted flour
2 teaspoons baking powder
1/2 teaspoon soda
1 teaspoon salt
1 teaspoon cinnamon
1/2 teaspoon nutmeg
1 cup Libby's Solid Pack Pumpkin
1 cup sugar
1/2 cup milk
2 eggs
1/4 cup softened butter
1 cup chopped pecans
Sift together flour, baking powder, soda, salt and spices. Combine pumpkin, sugar, milk and eggs in mixing bowl. Add dry ingredients and softened butter; mix until well blended. Stir in nuts. Spread in well-greased standard (9x5x3-inch) loaf pan. Bake in 350° F. oven for 45 to 55 minutes or until toothpick inserted in center comes out clean.
Makes one loaf.
Bread may be frozen.
More Recipes For You To Enjoy: