This promo recipe from Jell-O and Post Toasties was clipped from cardboard packaging of some kind, likely a box of the cereal. It was found in a large collection, date unknown. I've typed it below along with a scanned copy.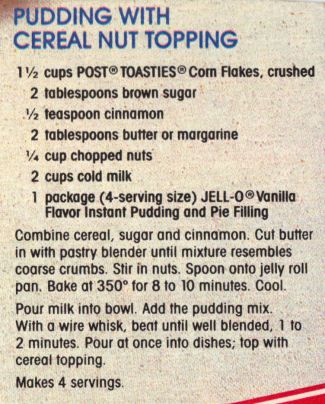 PUDDING WITH CEREAL NUT TOPPING
1 1/2 cups POST TOASTIES Corn Flakes, crushed
2 tablespoons brown sugar
1/2 teaspoon cinnamon
2 tablespoons butter or margarine
1/4 cup chopped nuts
2 cups cold milk
1 package (4-serving size) JELL-O Vanilla Flavor Instant Pudding and Pie Filling
Combine cereal, sugar and cinnamon. Cut butter in with pastry blender until mixture resembles coarse crumbs. Stir in nuts. Spoon onto jelly roll pan. Bake at 350° for 8 to 10 minutes. Cool.
Pour milk into bowl. Add the pudding mix. With a wire whisk, beat until well blended, 1 to 2 minutes. Pour at once into dishes; top with cereal topping.
Makes 4 servings.
More Recipes For You To Enjoy: