This recipe was written on a lined index card and found in a large collection, date unknown. Recipe is typed below along with a scanned copy.
Pressed Chicken
1 chicken
1 1/2 tsp. salt
Water to cover
1/8 tsp. pepper
1 tablespoon vinegar
2 1/2 pints chicken broth
2 tablespoon gelatin
1/2 cup chopped pickles (optional)
Cook chicken in salt water until very soft. Remove skin and bones.
Dice meat into small pieces and place in the dish it is to be molded in.
Dissolve gelatin in 1/2 c. cold water and add vinegar, pepper and pickles.
Pour it over the meat and mix together well.
Place in refrigerator to mold.
Slice and serve, garnished with parsley.
Serves 8.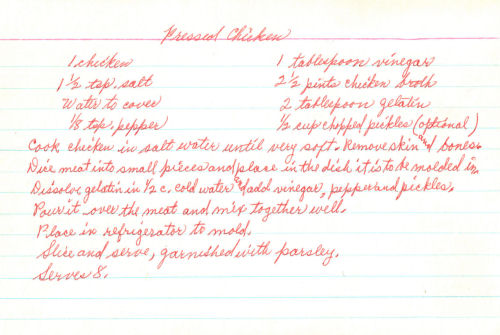 More Recipes For You To Enjoy: