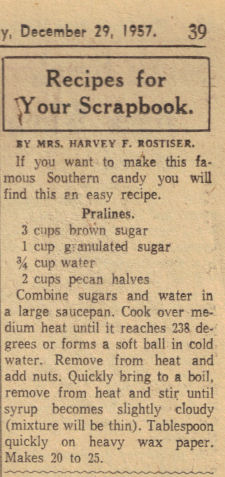 This recipe was clipped from a newspaper dated 1957. Recipe is typed below along with a scanned copy.
Recipes for Your Scrapbook.
BY MRS. HARVEY F. ROSTISER.
If you want to make this famous Southern candy you will find this an easy recipe.
Pralines.
3 cups brown sugar
1 cup granulated sugar
3/4 cup water
2 cups pecan halves
Combine sugars and water in a large saucepan. Cook over medium heat until it reaches 238 degrees or forms a soft ball in cold water. Remove from heat and add nuts. Quickly bring to a boil, remove from heat and stir until syrup becomes slightly cloudy (mixture will be thin). Tablespoon quickly on heavy wax paper. Makes 20 to 25.
More Recipes For You To Enjoy: