This recipe was clipped from a newspaper or magazine and taped onto a white index card. Date is unknown but most of the recipes in this collection were from the 1940s through the 1960s. Recipe is typed below along with a scanned copy of the first side.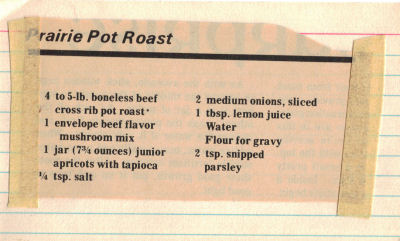 Prairie Pot Roast
4 to 5-lb. boneless beef cross rib pot roast*
1 envelope beef flavor mushroom mix
1 jar (7 3/4 ounces) junior apricots with tapioca
1/4 tsp. salt
2 medium onions, sliced
1 tbsp. lemon juice
Water
Flour for gravy
2 tsp. snipped parsley
Place meat on rack in Dutch oven or roasting pan. Combine mushroom mix, apricots and salt and spread over meat. Cover tightly and cook in slow oven (325 degrees) for 2 hours. Add onion and lemon juice to cooking liquid and continue cooking, covered, 1 hour or until tender. Remove meat to warm platter. If thicker gravy is desired, combine water and flour and use to thicken cooking liquid. Add snipped parsley and cook 3 to 5 minutes.
*Note: A boneless beef rump or chuck eye roast may be used.
More Recipes For You To Enjoy: