This recipe was written on a lined index card and found in a large collection, date unknown. I've typed it below along with a scanned copy.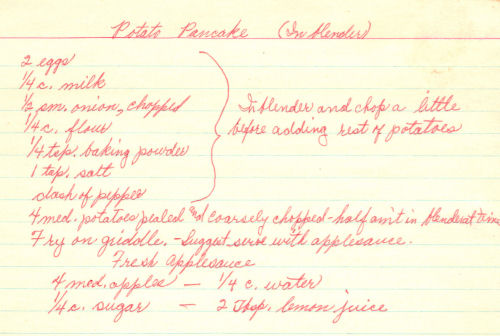 Potato Pancake (In blender)
In blender and chop a little before adding rest of potatoes:
2 eggs
1/4 c. milk
1/2 sm. onion, chopped
1/4 c. flour
1/4 tsp. baking powder
1 tsp. salt
dash of pepper
4 med. potatoes peeled and coarsely chopped – half amount in blender at time.
Fry on griddle. Suggest serve with applesauce.
Fresh Applesauce
4 med. apples – 1/4 c. water
1/4 c. sugar – 2 Tbsp. lemon juice
More Recipes For You To Enjoy: