This vintage recipe card was found in a large collection, date unknown. I've typed it below along with a scanned copy.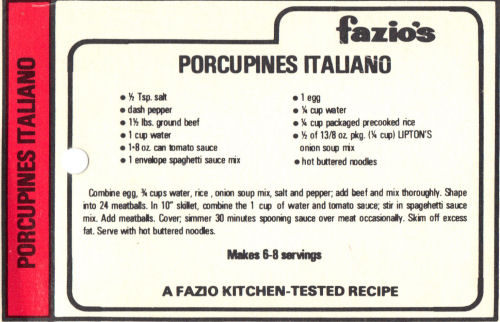 fazio's
PORCUPINES ITALIANO
1/2 Tsp. salt
dash pepper
1 1/2 lbs. ground beef
1 cup water
1-8 oz. can tomato sauce
1 envelope spaghetti sauce mix
1 egg
1/4 cup water
1/4 cup packaged precooked rice
1/2 of 13/8 oz. pkg. (1/4 cup) LIPTON'S onion soup mix
hot buttered noodles
Combine egg, 3/4 cups water, rice, onion soup mix, salt and pepper; add beef and mix thoroughly. Shape into 24 meatballs. In 10″ skillet, combine the 1 cup of water and tomato sauce; stir in spaghetti sauce mix. Add meatballs. Cover; simmer 30 minutes spooning sauce over meat occasionally. Skim off excess fat. Serve with hot buttered noodles.
Makes 6-8 servings
A FAZIO KITCHEN-TESTED RECIPE
More Recipes For You To Enjoy: