This recipe was clipped from a newspaper and found in a large collection, date unknown but I'm guessing this is from the 1960's based on the information listed on the back. Recipe is typed below along with a scanned copy.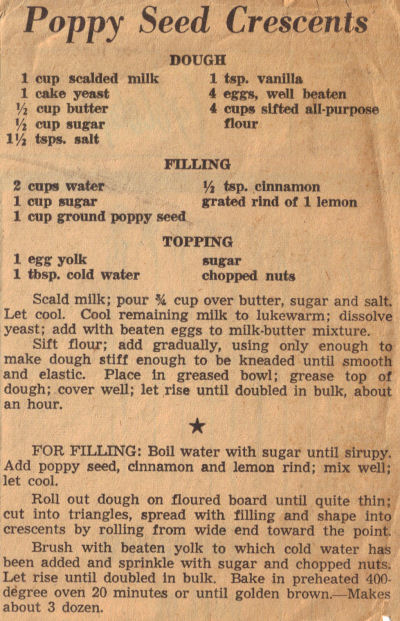 Poppy Seed Crescents
DOUGH
1 cup scalded milk
1 cake yeast
1/2 cup butter
1/2 cup sugar
1 1/2 tsps. salt
1 tsp. vanilla
4 eggs, well beaten
4 cups sifted all-purpose flour
FILLING
2 cups water
1 cup sugar
1 cup ground poppy seed
1/2 tsp. cinnamon
grated rind of 1 lemon
TOPPING
1 egg yolk
1 tbsp. cold water
sugar
chopped nuts
Scald milk; pour 3/4 cup over butter, sugar and salt. Let cool. Cool remaining milk to lukewarm; dissolve yeast; add with beaten eggs to milk-butter mixture.
Sift flour; add gradually, using only enough to make dough stiff enough to be kneaded until smooth and elastic. Place in greased bowl; grease top of dough; cover well; let rise until doubled in bulk, about an hour.
FOR FILLING: Boil water with sugar until sirupy. Add poppy seed, cinnamon and lemon rind; mix well; let cool.
Roll out dough on floured board until quite thin; cut into triangles, spread with filling and shape into crescents by rolling from wide end toward the point.
Brush with beaten yolk to which cold water has been added and sprinkle with sugar and chopped nuts. Let rise until doubled in bulk. Bake in preheated 400-degree oven 20 minutes or until golden brown.
–Makes about 3 dozen.
More Recipes For You To Enjoy: