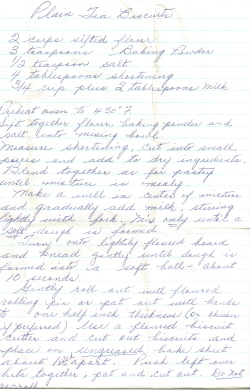 This is a handwritten recipe on a long sheet of lined paper. Date unknown. The writing was neat and I was able to interpret the recipe with no problem.
Recipe is typed below true to the original copy.
Plain Tea Biscuits
2 cups sifted flour
3 teaspoons Baking Powder
1/2 teaspoon salt
4 tablespoons shortening
3/4 cup plus 2 tablespoons milk
Preheat oven to 450° F.
Sift together flour, baking powder and salt into mixing bowl.
Measure shortening, cut into small pieces and add to dry ingredients.
Blend together as for pastry until mixture is mealy.
Make a well in center of mixture and gradually add milk, stirring lightly with fork. Mix only until a soft dough is formed.
Turn onto lightly floured board and knead gently until dough is formed into a soft ball–about 10 seconds.
Gently roll out with floured rolling pin or pat out with hands to one half inch thickness (or thicker if preferred) use a floured biscuit cutter and cut out biscuits and place on ungreased bake sheet about 1 inch apart. Push left over bits together, pat and cut out. Do not re-roll.
Bake at 450° F 12 to 15 min.
Yields 12 biscuits (using a 2 1/4 inch cutter)
To cut the shortening into the flour a pastry blender or two table knives work well.
More Recipes For You To Enjoy: