This recipe was clipped from a newspaper in 1988/1989 (based on information on the back). It was shared by Better Homes and Gardens so you know it's a good one! Recipe is typed below along with a scanned copy.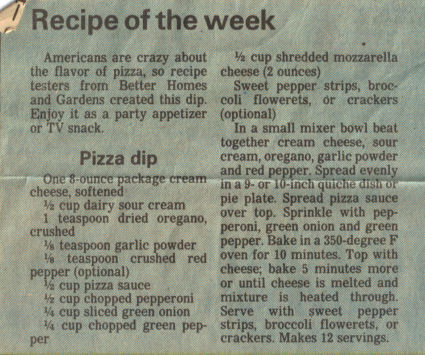 Recipe of the week
Americans are crazy about the flavor of pizza, so recipe testers from Better Homes and Gardens created this dip. Enjoy it as a party appetizer or TV snack.
Pizza dip
One 8-ounce package cream cheese, softened
1/2 cup dairy sour cream
1 teaspoon dried oregano, crushed
1/8 teaspoon garlic powder
1/8 teaspoon crushed red pepper (optional)
1/2 cup pizza sauce
1/2 cup chopped pepperoni
1/4 cup sliced green onion
1/4 cup chopped green pepper
1/2 cup shredded mozzarella cheese (2 ounces)
Sweet pepper strips, broccoli flowerets, or crackers (optional)
In a small mixer bowl beat together cream cheese, sour cream, oregano, garlic powder and red pepper. Spread evenly in a 9- or 10-inch quiche dish or pie plate. Spread pizza sauce over top. Sprinkle with pepperoni, green onion and green pepper. Bake in a 350-degree F oven for 10 minutes. Top with cheese; bake 5 minutes more or until cheese is melted and mixture is heated through. Serve with sweet pepper strips, broccoli flowerets, or crackers. Makes 12 servings.
More Recipes For You To Enjoy: