This old recipe was clipped from a newspaper, date unknown. Recipe is typed below along with a scanned copy.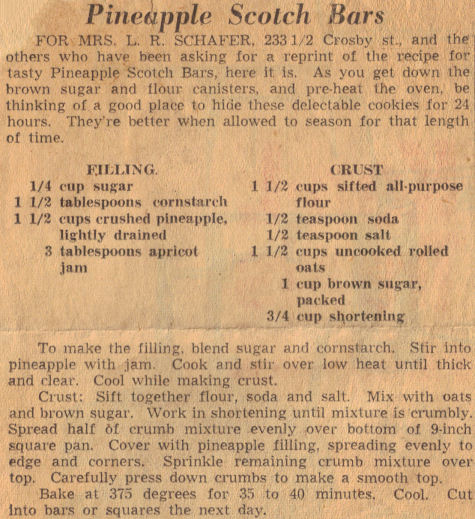 Pineapple Scotch Bars
FOR MRS. L. R. SCHAFER, 233 1/2 Crosby st., and the others who have been asking for a reprint of the recipe for tasty Pineapple Scotch Bars, here it is. As you get down the brown sugar and flour canisters, and pre-heat the oven, be thinking of a good place to hide these delectable cookies for 24 hours. They're better when allowed to season for that length of time.
FILLING
1/4 cup sugar
1 1/2 tablespoons cornstarch
1 1/2 cups crushed pineapple, lightly drained
3 tablespoons apricot jam
CRUST
1 1/2 cups sifted all-purpose flour
1/2 teaspoon soda
1/2 teaspoon salt
1 1/2 cups uncooked rolled oats
1 cup brown sugar, packed
3/4 cup shortening
To make the filling, blend sugar and cornstarch. Stir into pineapple with jam. Cook and stir over low heat until thick and clear. Cool while making crust.
Crust: Sift together flour, soda and salt. Mix with oats and brown sugar. Work in shortening until mixture is crumbly. Spread half of crumb mixture evenly over bottom of 9-inch square pan. Cover with pineapple filling, spreading evenly to edge and corners. Sprinkle remaining crumb mixture over top. Carefully press down crumbs to make a smooth top.
Bake at 375 degrees for 35 to 40 minutes. Cool. Cut into bars or squares the next day.
More Recipes For You To Enjoy: