This recipe advertisement was clipped from Parade Magazine, April 16, 1961. On the back there is part of an article that discusses office space and compares the offices of Cabinet member Luther Hodges (Secretary of Commerce) to President Kennedy's White House office (Kennedy's was smaller). Recipe follows: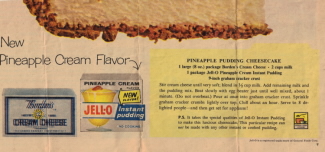 PINEAPPLE PUDDING CHEESECAKE
1 large (8 oz.) package Borden's Cream Cheese
2 cups milk
1 package Jell-O Pineapple Cream Instant Pudding
9-inch graham cracker crust
Stir cream cheese until very soft; blend in 1/2 cup milk. Add remaining milk and the pudding mix. Beat slowly with egg beater just until well mixed, about 1 minute. (Do not overbeat.) Pour at once into graham cracker crust. Sprinkle graham cracker crumbs lightly over top. Chill about an hour. Serve to 8 delighted people–and then get set for applause!
P.S. It takes the special qualities of Jell-O Instant Pudding to make this luscious cheesecake. This particular recipe can not be made with any other instant or cooked pudding.
More Recipes For You To Enjoy: