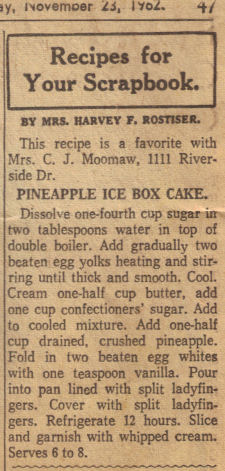 This recipe was clipped from a newspaper dated 1962. Recipe is typed below along with a scanned copy.
Recipes for Your Scrapbook.
BY MRS. HARVEY F. ROSTISER.
This recipe is a favorite with Mrs. C. J. Moomaw, 1111 Riverside Dr.
PINEAPPLE ICE BOX CAKE.
Dissolve one-fourth cup sugar in two tablespoons water in top of double boiler. Add gradually two beaten egg yolks heating and stirring until thick and smooth. Cool. Cream one-half cup butter, add one cup confectioners' sugar. Add to cooled mixture. Add one-half cup drained, crushed pineapple. Fold in two beaten egg whites with one teaspoon vanilla. Pour into pan lined with split ladyfingers. Cover with split ladyfingers. Refrigerate 12 hours. Slice and garnish with whipped cream. Serves 6 to 8.
More Recipes For You To Enjoy: