This recipe clipping comes from a large lot of old recipe clippings for pickles, jams, jellies, relishes and more. Date is unknown but the recipes in this lot suggest 1940s through to the 1960s. Recipe is typed below.
Before using this recipe, it's important to read this page, the "Safe Canning & Food Preservation" section.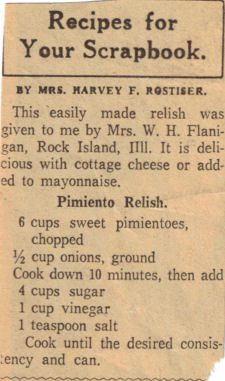 Recipes for Your Scrapbook.
By Mrs. Harvey F. Rostiser.
This easily made relish was given to me by Mrs. W. H. Flanigan, Rock Island, Ill. It is delicious with cottage cheese or added to mayonnaise.
Pimiento Relish.
6 cups sweet pimientoes, chopped
1/2 cup onions, ground
Cook down 10 minutes, then add
4 cups sugar
1 cup vinegar
1 teaspoon salt
Cook until the desired consistency and can.
More Recipes For You To Enjoy: