This recipe was clipped from a newspaper, date unknown. Recipe is typed below along with a scanned copy.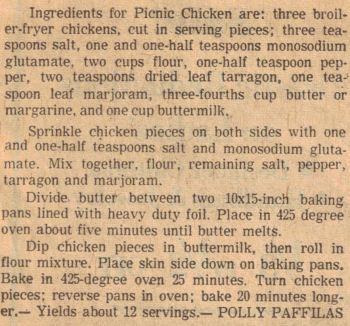 Ingredients for Picnic Chicken are: three broiler-fryer chickens, cut in serving pieces; three teaspoons salt, one and one-half teaspoons monosodium glutamate, two cups flour, one-half teaspoon pepper, two teaspoons dried leaf tarragon, one teaspoon leaf marjoram, three-fourths cup butter or margarine, and one cup buttermilk.
Sprinkle chicken pieces on both sides with one and one-half teaspoons salt and monosodium glutamate. Mix together, flour, remaining salt, pepper, tarragon and marjoram.
Divide butter between two 10×15-inch baking pans lined with heavy duty foil. Place in 425 degree oven about five minutes until butter melts.
Dip chicken pieces in buttermilk, then roll in flour mixture. Place skin side down on baking pans. Bake in 425-degree oven 25 minutes. Turn chicken pieces; reverse pans in oven; bake 20 minutes longer.–Yields about 12 servings.–POLLY PAFFILAS
More Recipes For You To Enjoy: