This recipe for Pecan-Raisin Bars comes from a holiday baking sheet titled "Celebrate the Season with Holiday Treats". This was a promo piece featuring a variety of brands: Nestle Chocolate, Sun-Maid Raisins, Peter Pan Peanut Butter, Grandma's Molasses and Gold Medal Flour. Date unknown. Recipe is typed below along with a scanned copy of the recipe and a scan of the cover (at the bottom).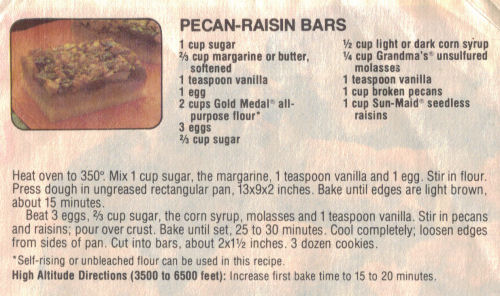 PECAN-RAISIN BARS
1 cup sugar
2/3 cup margarine or butter, softened
1 teaspoon vanilla
1 egg
2 cups Gold Medal all-purpose flour*
3 eggs
2/3 cup sugar
1/2 cup light or dark corn syrup
1/4 cup Grandma's unsulfured molasses
1 teaspoon vanilla
1 cup broken pecans
1 cup Sun-Maid seedless raisins
Heat oven to 350°. Mix 1 cup sugar, the margarine, 1 teaspoon vanilla and 1 egg. Stir in flour. Press dough in ungreased rectangular pan, 13x9x2 inches. Bake until edges are light brown, about 15 minutes.
Beat 3 eggs, 2/3 cup sugar, the corn syrup, molasses and 1 teaspoon vanilla. Stir in pecans and raisins; pour over crust. Bake until set, 25 to 30 minutes. Cool completely; loosen edges from sides of pan. Cut into bars, about 2×1 1/2 inches. 3 dozen cookies.
*Self-rising or unbleached flour can be used in this recipe.
High Altitude Directions (3500 to 6500 feet): Increase first bake time to 15 to 20 minutes.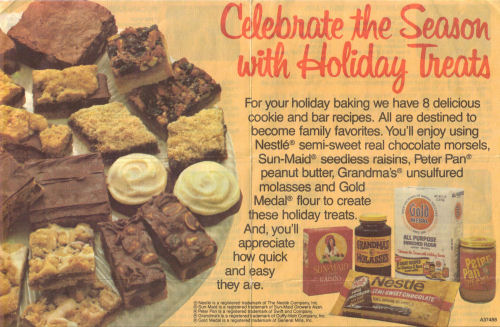 More Recipes For You To Enjoy: