This promo recipe slip from Adams Extract Co. was published in 1994 and found in a large collection. I've typed it below along with a scanned copy of both sides.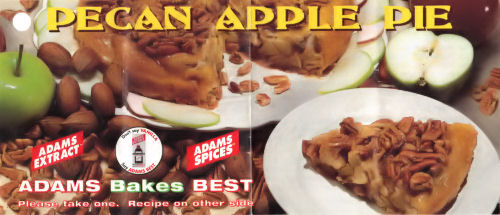 PECAN APPLE PIE
PECAN MIXTURE
1/3 cup Margarine, melted
3/4 tsp. "Adams Best" Vanilla
1/2 cup Brown Sugar, firmly packed
1 cup Pecans, chopped
1 package Uncooked Prepared Pie Crust (for 2 crust pie)
FILLING
1 tsp. "Adams Best" Vanilla
3/4 tsp. Adams Butter Flavoring
3/4 cup Granulated Sugar
2 Tbl. All-Purpose Flour
2 Tbl. Adams Cinnamon
1/4 tsp. Adams Nutmeg
1/4 tsp. Adams Allspice
8 Tart Apples, medium size (7 cups)*
Preheat oven to 375°.
PECAN MIXTURE. In pan, melt margarine. Blend in "Adams Best" Vanilla, brown sugar and pecans. Spread mixture evenly in bottom of deep dish pie pan. Place one pie crust over pecan mixture.
FILLING. Mix "Adams Best" Vanilla, Adams Butter Flavoring and sugar. Blend in flour, Adams Cinnamon and Adams Nutmeg. Coat peeled, cored and sliced apples with sugar mixture. Arrange apple slices in pan and top with 2nd crust. Flute edges. Cut several slits in top crust.
BAKING INSTRUCTIONS. Place pan on foil or cookie sheet to guard against spillage. Bake at 375° for 40 minutes, or until crust is golden brown and apples are tender. Remove from oven. Immediately place serving platter over pie and invert. Carefully lift pan from crust. If any nuts remaining in pan remove them and place them on the pie with a knife. Cool at least 1 hour before serving. Garnish if desired.
*Do NOT use canned or frozen apples or apple pie filling.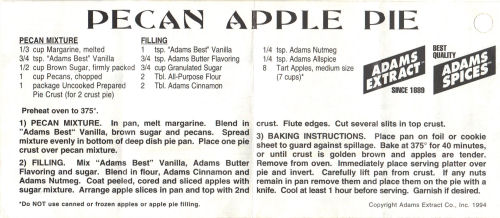 More Recipes For You To Enjoy: