This is a clipping from some sort of packaging or maybe a magazine insert, heavy paper weight and the back side is plain so I'm not sure. The date is unknown and this recipe was found in a box of old recipes.
TRY BETTY CROCKER'S NEW
PEANUT PETITES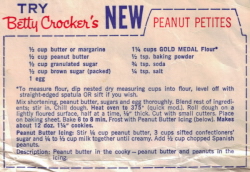 1/2 cup butter or margarine
1/2 cup peanut butter
1/2 cup granulated sugar
1/2 cup brown sugar (packed)
1 egg
1 1/4 cups GOLD MEDAL Flour*
1/2 tsp. baking powder
3/4 tsp. soda
1/4 tsp. salt
*To measure flour, dip nested dry measuring cups into flour, level off with straight-edged spatula OR sift if you wish.
Mix shortening, peanut butter, sugars and egg thoroughly. Blend rest of ingredients; stir in. Chill dough. Heat oven to 375° (quick mod.). Roll dough on a lightly floured surface, half at a time, 1/8″ thick. Cut with small cutters. Place on baking sheet. Bake 6 to 8 min. Frost with Peanut Butter Icing (below). Makes about 12 doz. 1 1/4″ cookies.
Peanut Butter Icing: Stir 1/4 cup peanut butter, 3 cups sifted confectioners' sugar and 1/4 to 1/3 cup milk together until creamy. Add 1/2 cup chopped Spanish peanuts.
Description: Peanut butter in the cooky — peanut butter and peanuts in the icing.
More Recipes For You To Enjoy: