This recipe was clipped from a newspaper and found in a large collection, date unknown. Recipe is typed below along with a scanned copy.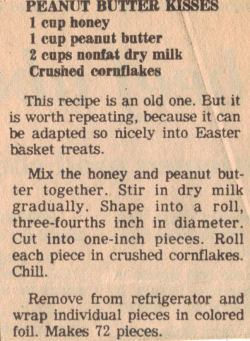 PEANUT BUTTER KISSES
1 cup honey
1 cup peanut butter
2 cups nonfat dry milk
Crushed cornflakes
This recipe is an old one. But it is worth repeating, because it can be adapted so nicely into Easter basket treats.
Mix the honey and peanut butter together. Stir in dry milk gradually. Shape into a roll, three-fourths inch in diameter. Cut into one-inch pieces. Roll each piece in crushed cornflakes. Chill.
Remove from refrigerator and wrap individual pieces in colored foil. Makes 72 pieces.
More Recipes For You To Enjoy: