This recipe was published in an article by Farm Journal in 1966, the article was for holiday sweet treats titled "Best-Ever Candy". Recipe is typed below along with scanned copies (recipe was clipped in two parts).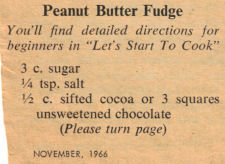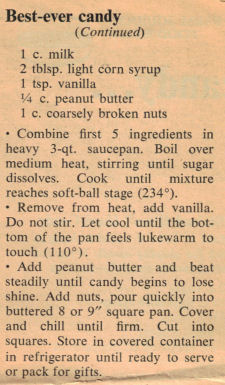 Peanut Butter Fudge
3 c. sugar
1/4 tsp. salt
1/2 c. sifted cocoa or 3 squares unsweetened chocolate
1 c. milk
2 tblsp. light corn syrup
1 tsp. vanilla
1/4 c. peanut butter
1 c. coarsely broken nuts
Combine first 5 ingredients in heavy 3-qt. saucepan. Boil over medium heat, stirring until sugar dissolves. Cook until mixture reaches soft-ball stage (234°).
Remove from heat, add vanilla. Do not stir. Let cool until the bottom of the pan feels lukewarm to touch (110°).
Add peanut butter and beat steadily until candy begins to lose shine. Add nuts, pour quickly into buttered 8 or 9″ square pan. Cover and chill until firm. Cut into squares. Store in covered container in refrigerator until ready to serve or pack for gifts.
More Recipes For You To Enjoy: