Here's a recipe from a holiday baking sheet titled "Celebrate the Season with Holiday Treats". This was a promo piece featuring a variety of brands: Nestle Chocolate, Sun-Maid Raisins, Peter Pan Peanut Butter, Grandma's Molasses and Gold Medal Flour. Date unknown. Recipe is typed below along with a scanned copy of the recipe and a scan of the cover (at the bottom).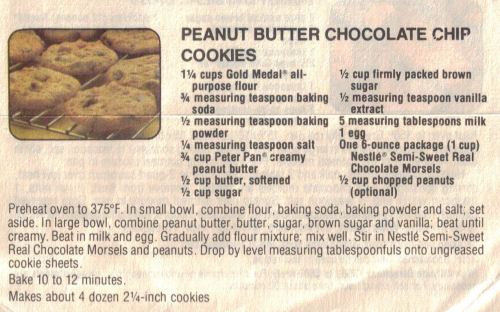 PEANUT BUTTER CHOCOLATE CHIP COOKIES
1 1/4 cups Gold Medal all-purpose flour
3/4 measuring teaspoon baking soda
1/2 measuring teaspoon baking powder
1/4 measuring teaspoon salt
3/4 cup Peter Pan creamy peanut butter
1/2 cup butter, softened
1/2 cup sugar
1/2 cup firmly packed brown sugar
1/2 measuring teaspoon vanilla extract
5 measuring tablespoons milk
1 egg
One 6-ounce package (1 cup) Nestle Semi-Sweet Real Chocolate Morsels
1/2 cup chopped peanuts (optional)
Preheat oven to 375°F. In small bowl, combine flour, baking soda, baking powder and salt; set aside. In large bowl, combine peanut butter, butter, sugar, brown sugar and vanilla; beat until creamy. Beat in milk and egg. Gradually add flour mixture; mix well. Stir in Nestle Semi-Sweet Real Chocolate Morsels and peanuts. Drop by level measuring tablespoonfuls onto ungreased cookie sheets.
Bake 10 to 12 minutes.
Makes about 4 dozen 2 1/4-inch cookies.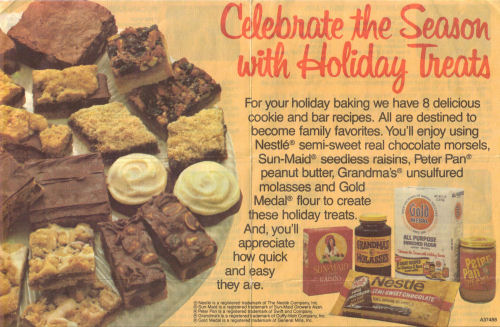 More Recipes For You To Enjoy: