This recipe was written on a lined index card and found in a large collection, date unknown. I've typed it below along with a scanned copy.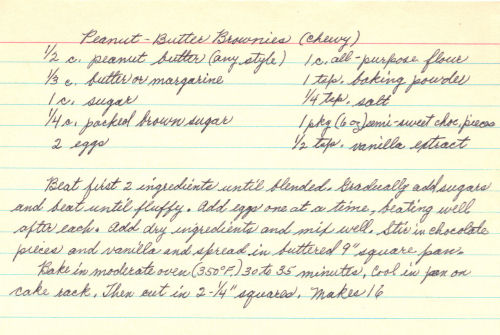 Peanut-Butter Brownies (Chewy)
1/2 c. peanut butter (any style)
1/3 c. butter or margarine
1 c. sugar
1/4 c. packed brown sugar
2 eggs
1 c. all-purpose flour
1 tsp. baking powder
1/4 tsp. salt
1 pkg (6 oz) semi-sweet choc. pieces
1/2 tsp. vanilla extract
Beat first 2 ingredients until blended. Gradually add sugars and beat until fluffy. Add eggs one at a time, beating well after each. Add dry ingredients and mix well. Stir in chocolate pieces and vanilla and spread in buttered 9″ square pan.
Bake in moderate oven (350°F.) 30 to 35 minutes. Cool in pan on cake rack. Then cut in 2-1/4″ squares. Makes 16.
More Recipes For You To Enjoy: