This recipe was written on a lined index card and found in a large collection, date unknown. Recipe is typed below along with a scanned copy (front side only). Spelling corrected.
Peanut Butter Balls
1 stick oleo (soft)
3 cups rice krispies (measure as come from box)
1 # powdered sugar
2 cups creamy peanut butter
Crush rice krispies and mix all of above ingredients together very thoroughly.
Form into balls the size of a walnut.
Insert round toothpick in each ball.
Put in ref. or freezer for several hours or over night.
Then dip in the following:
1 – 6 oz. pkg. chocolate chips (Nestles)
1 – giant size plain Hershey bar
1/2 bar paraffin wax
Melt above chocolate mixture and wax in double boiler until smooth.
Dip each ball in chocolate and put on wax paper.
Toothpick may be removed when set.
Ref. or freeze cookies.
Can be decorated if desired.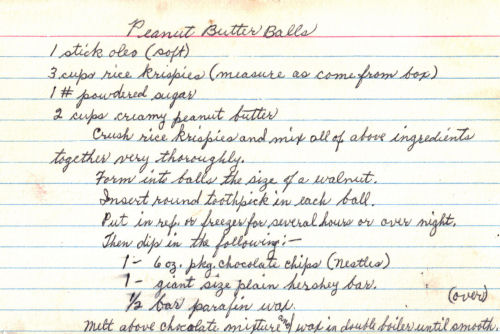 More Recipes For You To Enjoy: