This recipe for Peanut Butter & Jam Bars comes from a holiday baking sheet titled "Celebrate the Season with Holiday Treats". This was a promo piece featuring a variety of brands: Nestle Chocolate, Sun-Maid Raisins, Peter Pan Peanut Butter, Grandma's Molasses and Gold Medal Flour. Date unknown. Recipe is typed below along with a scanned copy of the recipe and a scan of the cover (at the bottom).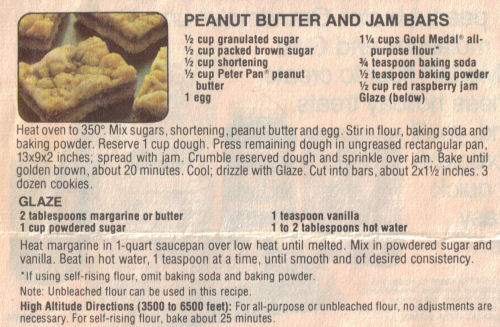 PEANUT BUTTER AND JAM BARS
1/2 cup granulated sugar
1/2 cup packed brown sugar
1/2 cup shortening
1/2 cup Peter Pan peanut butter
1 egg
1 1/4 cups Gold Medal all-purpose flour*
3/4 teaspoon baking soda
1/2 teaspoon baking powder
1/2 cup red raspberry jam
Glaze (below)
Heat oven to 350°. Mix sugars, shortening, peanut butter and egg. Stir in flour, baking soda and baking powder. Reserve 1 cup dough. Press remaining dough in ungreased rectangular pan, 13x9x2 inches; spread with jam. Crumble reserved dough and sprinkle over jam. Bake until golden brown, about 20 minutes. Cool; drizzle with Glaze. Cut into bars, about 2×1½ inches. 3 dozen cookies.
GLAZE
2 tablespoons margarine or butter
1 cup powdered sugar
1 teaspoon vanilla
1 to 2 tablespoons hot water
Heat margarine in 1-quart saucepan over low heat until melted. Mix in powdered sugar and vanilla. Beat in hot water, 1 teaspoon at a time, until smooth and of desired consistency.
*If using self-rising flour, omit baking soda and baking powder.
Note: Unbleached flour can be used in this recipe.
High Altitude Directions (3500 to 6500 feet): For all-purpose or unbleached flour, no adjustments are necessary. For self-rising flour, bake about 25 minutes.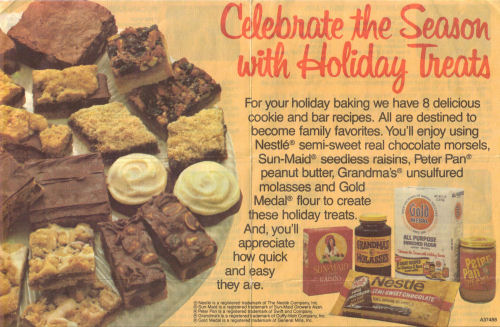 More Recipes For You To Enjoy: