This recipe was clipped from a newspaper and found in a large collection, date unknown. Recipe is typed below along with a scanned copy.
Summer Treat
MAKE THIS PEACHY Rice Mold in the cool of the morning and you'll be heaped with warm compliments when you serve it at your garden club's Summer party or to top off a family cookout.
For extra flavor, add 1 teaspoon brandy extract to the water in which the rice is cooked.
Ingredients are: 1 can (1 lb.-4 oz.) sliced peaches, chopped; water, 1 package (3-oz.) lemon flavored gelatin, 1 cup cooked rice, 2 bananas, mashed; 1 tablespoon lemon juice, and 1 cup heavy cream, whipped and sweetened to taste.
Drain peaches; add enough water to sirup to make 2 cups. Heat liquid to boiling; pour over gelatin; stir until dissolved. Cool until slightly thickened. Stir rice, peaches, bananas and lemon juice into gelatin. Fold in whipped cream. Turn into 6-cup mold; chill until firm. Garnish with additional peach slices or fresh Bing cherries and whipped cream.–Yields 6 servings.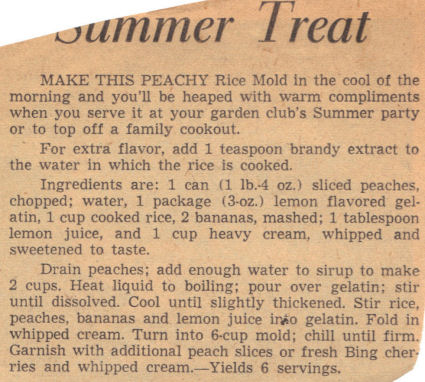 More Recipes For You To Enjoy: