This is a full magazine page promo from Jell-O for Instant Pudding and Cling Peaches. No date on front or back, magazine unknown.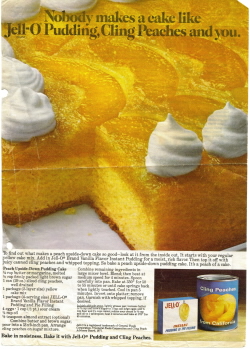 Nobody makes a cake like Jell-O Pudding, Cling Peaches and you.
To find out what makes a peach upside-down cake so good–look at it from the inside out. It starts with your regular yellow cake mix. Add in Jell-O Brand Vanilla Flavor Instant Pudding for a moist, rich flavor. Then top it off with juicy canned cling peaches and whipped topping. So bake a peach upside-down pudding cake. It's a peach of a cake.
Peach Upside-Down Pudding Cake
1/4 cup butter or margarine, melted
1/3 cup firmly packed light brown sugar
1 can (29 oz.) sliced cling peaches, well drained
1 package (2-layer size) yellow cake mix
1 package (4-serving size) JELL-O Brand Vanilla Flavor Instant Pudding and Pie Filling
4 eggs
1 cup (1/2 pt.) sour cream
1/4 cup oil
1/2 teaspoon almond extract (optional)
Combine butter and brown sugar; pour into a 13×9-inch pan. Arrange cling peaches on sugar mixture.
Combine remaining ingredients in large mixer bowl. Blend; then beat at medium speed for 4 minutes. Spoon carefully into pan. Bake at 350° for 50 to 55 minutes or until cake springs back when lightly touched. Cool in pan 5 minutes. Invert onto platter; remove pan. Garnish with whipped topping, if desired.
In high altitude areas, lightly grease pan; increase butter to 1/2 cup and brown sugar to 1 cup; use large eggs; add 1/3 cup flour and 1 1/4 cups water; reduce sour cream to 1/3 cup and oil to 1 tablespoon; beat 2 minutes and bake at 375° for 45 minutes.
Bake in moistness. Bake it with Jell-O Pudding and Cling Peaches.
More Recipes For You To Enjoy: