I believe this recipe was clipped from a Corning glass pie plate insert since the back of the recipe has the "Corning Promise" and 10″ Pie Plate written across the top. The paper is not magazine page quality, but has full color on the back. Date is unknown, this comes from a large collection of old recipes.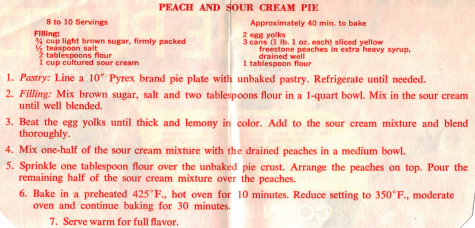 PEACH AND SOUR CREAM PIE
8 to 10 Servings
Approximately 40 min. to bake
Filling:
3/4 cup light brown sugar, firmly packed
1/2 teaspoon salt
2 tablespoons flour
1 cup cultured sour cream
2 egg yolks
3 cans (1 lb. 1 oz. each) sliced yellow freestone peaches in extra heavy syrup, drained well
1 tablespoon flour
Pastry: Line a 10″ Pyrex brand pie plate with unbaked pastry. Refrigerate until needed.
Filling: Mix brown sugar, salt and two tablespoons flour in a 1-quart bowl. Mix in the sour cream until well blended.
Beat the egg yolks until thick and lemony in color. Add to the sour cream mixture and blend thoroughly.
Mix one-half of the sour cream mixture with the drained peaches in a medium bowl.
Sprinkle one tablespoon flour over the unbaked pie crust. Arrange the peaches on top. Pour the remaining half of the sour cream mixture over the peaches.
Bake in a preheated 425°F., hot oven for 10 minutes. Reduce setting to 350°F., moderate oven and continue baking for 30 minutes.
Serve warm for full flavor.
More Recipes For You To Enjoy: