This is a recipe advertisement for California Cling Peaches that was clipped from a magazine published in 1947. There are two recipes, both typed out in full below. You can also view a scanned image (click to view large).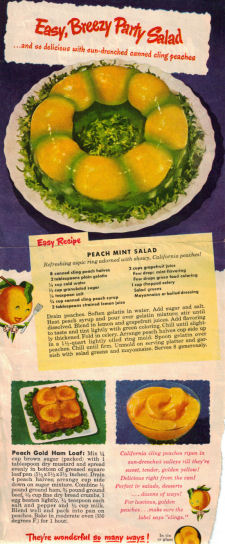 Easy, Breezy Party Salad
. . . and so delicious with sun-drenched canned cling peaches
Easy Recipe
PEACH MINT SALAD
Refreshing aspic ring adorned with showy, California peaches!
8 canned cling peach halves
2 tablespoons plain gelatin
1/4 cup cold water
1/2 cup granulated sugar
1/4 teaspoon salt
3/4 cup canned cling peach syrup
2 tablespoons strained lemon juice
2 cups grapefruit juice
Few drops mint flavoring
Few drops green food coloring
1 cup chopped celery
Salad greens
Mayonnaise or boiled dressing
Drain peaches. Soften gelatin in water. Add sugar and salt. Heat peach syrup and pour over gelatin mixture; stir until dissolved. Blend in lemon and grapefruit juices. Add flavoring to taste and tint lightly with green coloring. Chill until slightly thickened. Fold in celery. Arrange peach halves cup side up in a 1 1/2-quart lightly oiled ring mold. Spoon gelatin over peaches. Chill until firm. Unmold on serving platter and garnish with salad greens and mayonnaise. Serves 8 generously.
Peach Gold Ham Loaf: Mix 1/4 cup brown sugar (packed) with 1 tablespoon dry mustard and spread evenly in bottom of greased square loaf pan (5 1/2 x 5 1/2 x 3 1/2 inches). Drain 4 peach halves; arrange cup side down on sugar mixture. Combine 1/2 pound ground ham, 3/4 pound ground beef, 2/3 cup fine dry bread crumbs, 1 egg beaten lightly, 1/4 teaspoon each salt and pepper and 1/3 cup milk. Blend well and pack into pan on peaches. Bake in moderate oven (350 degrees F.) for 1 hour.
California cling peaches ripen in
sun-drenched valleys till they're
sweet, tender, golden yellow!
Delicious right from the can!
Perfect in salads, desserts
. . . dozens of ways!
For luscious, golden
peaches . . . make sure the
label says "clings."
They're wonderful so many ways!
California Cling Peaches
More Recipes For You To Enjoy: