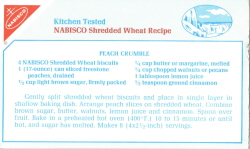 This is a promo recipe card for Nabisco, no date showing but I'd guess it isn't that old. Maybe 1980s or 1990s. I find this one interesting because I don't recall coming across Shredded Wheat recipes before.
Kitchen Tested
NABISCO Shredded Wheat Recipe
PEACH CRUMBLE
4 NABISCO Shredded Wheat biscuits
1 (17-ounce) can sliced freestone peaches, drained
1/2 cup light brown sugar, firmly packed
1/4 cup butter or margarine, melted
1/4 cup chopped walnuts or pecans
1 tablespoon lemon juice
1/2 teaspoon ground cinnamon
Gently split shredded wheat biscuits and place in single layer in shallow baking dish. Arrange peach slices on shredded wheat. Combine brown sugar, butter, walnuts, lemon juice and cinnamon. Spoon over fruit. Bake in a preheated hot oven (400° F.) 10 to 15 minutes or until hot, and sugar has melted. Makes 8 (4 x 2 1/2-inch) servings.
More Recipes For You To Enjoy: