This recipe was clipped from packaging of some kind and found in a large collection, date unknown. I've typed it below along with a scanned copy.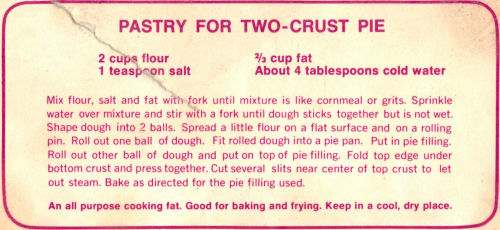 PASTRY FOR TWO-CRUST PIE
2 cups flour
1 teaspoon salt
2/3 cup fat
About 4 tablespoons cold water
Mix flour, salt and fat with fork until mixture is like cornmeal or grits. Sprinkle water over mixture and stir with a fork until dough sticks together but is not wet. Shape dough into 2 balls. Spread a little flour on a flat surface and on a rolling pin. Roll out one ball of dough. Fit rolled dough into a pie pan. Put in pie filling. Roll out other ball of dough and put on top of pie filling. Fold top edge under bottom crust and press together. Cut several slits near center of top crust to let out steam. Bake as directed for the pie filling used.
More Recipes For You To Enjoy: