This recipe was written on a lined index card and found in a large collection, date unknown. I've typed it below along with a scanned copy.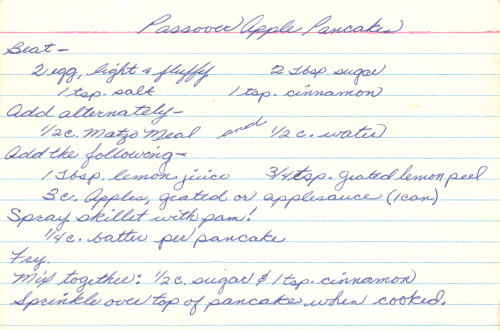 Passover Apple Pancakes
Beat:
2 eggs, light & fluffy
1 tsp. salt
2 Tbsp. sugar
1 tsp. cinnamon
Add alternately:
1/2 c. matzo meal and 1/2 c. water
Add the following:
1 Tbsp. lemon juice
3 c. apples, grated or applesauce (1 can)
3/4 tsp. grated lemon peel
Spray skillet with pam!
1/4 c. batter per pancake
Fry.
Mix together:
1/2 c. sugar & 1 tsp. cinnamon
Sprinkle over top of pancakes when cooked.
More Recipes For You To Enjoy: