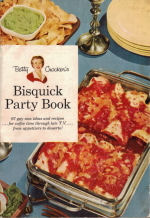 Here are pages 18, 19 and 20 of the vintage cookbook: Betty Crocker's Bisquick Party Book that was published in 1957 by General Mills.
To review all pages in this booklet, simply visit the Bisquick Party Book: Betty Crocker Category and click on a page title to review that section.
There are scans of each of the pages at the bottom, you can click the pictures to view a larger size.
Party Desserts
"Imagine making such elegant things so easily!" Betty Crocker
SUNDAE SHORT PIE
A birthday party pie, for a change. And so easy with this new pastry.
1 cup Bisquick
1/4 cup soft butter (1/2 stick)
3 tbsp. boiling water
Heat oven to 450° (hot). Put Bisquick, butter in 9″ pie pan. Add boiling water; stir with fork until dough forms ball and cleans pan. With fingers and heel of hand, pat evenly in pan, bringing dough up to edge. This will not be skimpy when baked. Flute edges, if desired. Bake 8 to 10 min. Cool; fill with ice cream; top with fresh or frozen fruit. And, for a birthday, candles!
MORE SHORT PIE IDEAS
Vary this elegant butter-crisp pastry for new desserts each time . . . here are 5 ideas; you'll think of more. Add the extra ingredients before the liquid:
1/2 cup flaked coconut
or
Sprinkle cinnamon-sugar mixture over pie shell before baking
or
1/2 tsp. black walnut extract,
1/2 cup chopped walnuts
or
1/2 tsp. maple extract,
1/4 cup chopped pecans
or
grated rind of 1 lemon
JOSEPHINES
The feminine version of Napoleons, dainty and delicate.
Make Short pie dough (above) adding 1/2 tsp. almond or vanilla extract. Pat dough into twelve 3×2″ oblongs. Bake 6 to 8 min. Cool. Spread tops of half the oblongs with Easy Creamy Icing. Sprinkle with chopped nuts. Put oblong together in pairs with chilled vanilla pudding between. Makes 6 tarts.
EASY CREAMY ICING: Blend 1 cup sifted confectioners' sugar, 1/4 tsp. salt, 1/2 tsp. vanilla or almond extract, and 1 1/2 tbsp. cream to make easy to spread.
CHEESE CAKE PIE
Make Short Pie shell (above). Bake. Whip together until stiff:
12-oz. cream-style cottage cheese
1/4 cup sugar
1 tsp. vanilla
1 cup whipping cream
1/2 tsp. salt
Fold in 9-oz. can drained, crushed pineapple. Spoon into baked Short Pie shell and freeze 2 hours. Strawberries on top are nice, too.
APPLE PAN DOWDY
The magic touch of Bisquick makes this old New England standby easier, quicker, and even more delicious.
1/4 cup Bisquick
1 cup brown sugar (packed)
1/2 tsp. salt
1 tsp. vinegar
1 cup water
1 tsp. vanilla
1 tbsp. butter
5 cups pared, sliced apples (6 or 7)
cinnamon, nutmeg, sugar
1 1/2 cups Bisquick
3/4 cup 20% cream
Heat oven to 400° (mod. hot). Grease 8″ sq. pan. Make sauce of 1/4 cup Bisquick, sugar, salt, vinegar, water. Cook over low heat, stirring until thick and clear. Take from heat; add vanilla, butter. Cool. Place apples in pan; sprinkle with cinnamon, nutmeg. Mix 1 1/2 cups Bisquick, cream; drop over apples; sprinkle with sugar, cinnamon. Pour sauce over all. Bake about 35 min. Serve plain or with top milk or cream.
SIMPLE SIMON TARTS
(pictured on cover)
Make Short Pie dough (p. 18) adding 1/2 tsp. almond or vanilla extract. Roll into 12 balls; pat out into 3″ rounds on baking sheet. Bake 6 to 8 min. at 450°. Cool. Top with chilled pudding and whipped cream.
Or top with softened cream cheese and a few strawberries.
JAM DANDIES
Cake, pie, or cooky? Your guests will ask for the recipe.
2 cups Bisquick
1 large egg, beaten
1/3 cup cream or undiluted evaporated milk
1/4 cup sugar
1/2 cup thick strawberry jam
Heat oven to 400° (mod. hot). Mix Bisquick, egg, cream, sugar to stiff dough. Roll around on board lightly dusted with Bisquick. Knead to smooth up. Divide in half. Pat each to fit 8″ layer pan. Fit one piece into greased pan, pressing about 1/4″ up sides. Spread with jam. Cover with other circle. Mark with sharp knife into 6 wedges; prick tops. Brush with cream or melted butter. Bake 20 min. Serve warm. 6 servings.
OLD-FASHIONED SHORTCAKE
"When you plan dessert, remember America's first love, strawberry shortcake. The easy directions are on the Bisquick package. It's so easy to be wonderful, when you have your Bisquick!"
P.S. Heavenly new cookies, next page!
VELVET CRUMB CAKE
When you want real homemade cake, here's one rich and buttery as grandma's pride. But easier!
1 1/3 cups Bisquick
3/4 cup sugar
3 tbsp. soft shortening
1 egg
3/4 cup milk
1 tsp. vanilla
Heat oven to 350° (mod.). Grease and flour 8″ sq. or 9″ round layer pan. Mix Bisquick, sugar. Add shortening, egg, 1/4 cup of milk. Beat hard 1 min. Stir in gradually remaining milk, vanilla. Beat 1/2 min. Pour into prepared pan. Bake 35 to 40 min. Cover with Broiled Topping while warm. The easy recipe for this topping is right there on your Bisquick box.
APPLE SHORT PIE COBBLER
4 cups sliced apples
2/3 cup sugar
1 1/2 tsp. cinnamon
butter
Heat oven to 400° (mod. hot). Mix apples, sugar, cinnamon. Place in 9″ pie pan. Dot with butter. Make Short Pie dough (p. 18) in bowl. Divide in 4 parts. Pat into wedges; fit together over apples, like a pie. Bake 25 to 30 min., until apples are done. Serve with cream.
CANDY DANDIES
Part candy, part cooky, all dandy!
Heat oven to 375° (quick mod.). Mix well 1/4 cup soft butter, 3/4 cup brown sugar (packed), 1 egg. Stir in 1 1/3 cups Bisquick, 1/2 cup chopped nuts, 1 chocolate-covered coconut bar, cut up. Drop with teaspoon 2″ apart on ungreased baking sheet. Bake about 10 min., until lightly browned. Makes 3 to 4 doz.
STRAWBERRY SHORTCAKE
The elegant kind: juicy berries over delicate Velvet Crumb Cake (recipe above). Without topping. Real glamor for any party.
CRANBERRY FESTIVAL SHORTCAKE
9-oz. can crushed pineapple
1 cup finely chopped or shredded red-skinned apple
1 cup canned whole-berry cranberry sauce
Mix all ingredients; let stand at room temperature. Serve over squares of warm Velvet Crumb Cake without topping (above). Garnish with whipped cream. 9 servings.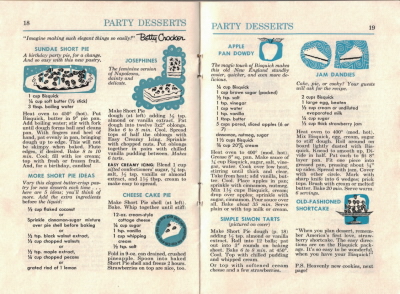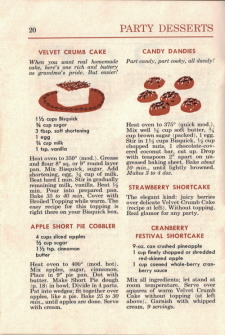 More Recipes For You To Enjoy: