This recipe was clipped from a newspaper and found in a large collection, date unknown. Recipe is typed below along with a scanned copy.
Party Chicken Loaf
Three envs. unflavored gelatin
Three and one-half cups milk
Two tsps. salt
One-fourth tsp. pepper
Two egg yolks, beaten
Three cups finely chopped cooked chicken
One cup mayonnaise
Juice of half lemon
One tbsp. prepared mustard
One cup chopped celery
One-fourth cup chopped pimiento
One avocado, peeled and sliced
Lemon juice, black olives
Rinse out half-gallon milk carton; let dry.
Sprinkle gelatin over one cup cold milk in saucepan. Place over low heat, stirring until gelatin is dissolved. Stir in remaining milk, salt, pepper, egg yolks; blending well.
Chill mixture until consistency of unbeaten egg whites. Combine chicken, mayonnaise, lemon juice, mustard, celery and pimiento. Add chilled milk mixture; blending thoroughly.
Pour into milk carton and chill, upright, in refrigerator until set, at least four hours.
To serve, turn carton on side, cut down one edge and slide loaf onto serving platter. Dip avocado slices in lemon juice to prevent darkening and garnish loaf with avocado slices and olives.–Yields eight servings.
NOTE: For Party Tuna Loaf, use two cans (12-ounce each) in place of chicken.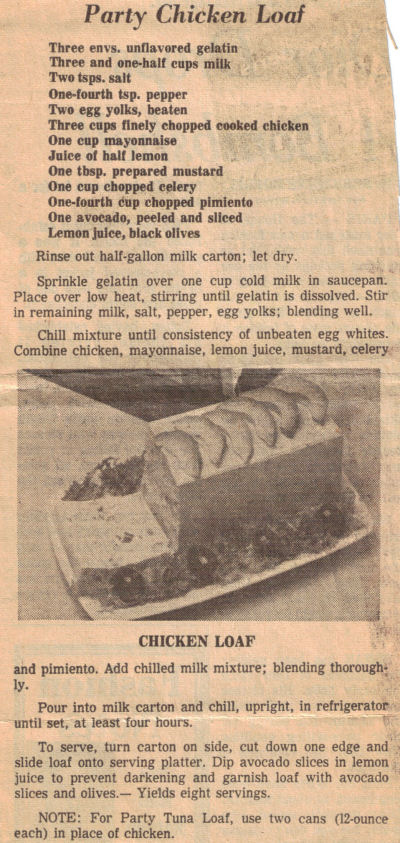 More Recipes For You To Enjoy: