This recipe was clipped from a magazine and is a promo piece for Kraft parmesan cheese, date unknown. Recipe is typed below along with a scanned copy (original is heavily stained in places and torn/taped, copy is the best I can get).
PARM-A-CHICKEN
Kraft 100% Grated Parmesan has invented a new cooking idea: "Parming." You add rich flavor to all kinds of dishes by shaking on the coarsely grated Parmesan from Kraft. You can Parm-a-soup. Parm-a-vegetable. Or Parm-a-chicken as in this recipe.
PARM-A-CHICKEN
1/2 cup (2 ozs.) Kraft Grated Parmesan Cheese
1/4 cup flour
1 teaspoon paprika
1/2 teaspoon salt
Dash of pepper
1 2 1/2 to 3-lb. broiler-fryer, cut up
1 egg, slightly beaten
1 tablespoon milk
1/4 cup Parkay Margarine, melted
Heat oven to 350°. Combine cheese, flour and seasonings. Dip chicken in combined egg and milk; coat with cheese mixture. Place in 11¾ x 7½-inch baking dish. Pour margarine over chicken; bake at 350°, 1 hour. Serve sprinkled with additional cheese. 3 to 4 servings.
KRAFT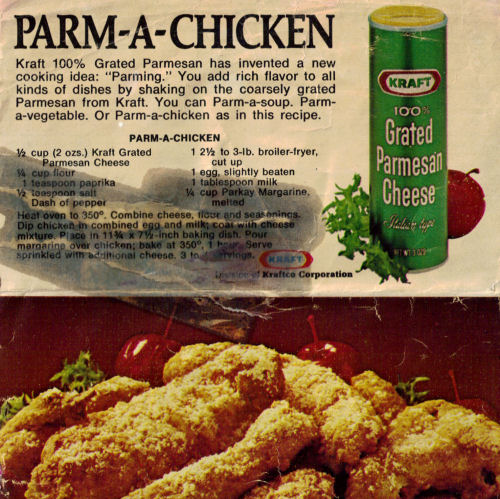 More Recipes For You To Enjoy: