This recipe comes from a promo recipe sheet by Mazola Oil titled "National Chicken Cooking Contest Winning Recipes". This was found in a large collection, date unknown. Recipe is typed below along with a scanned copy.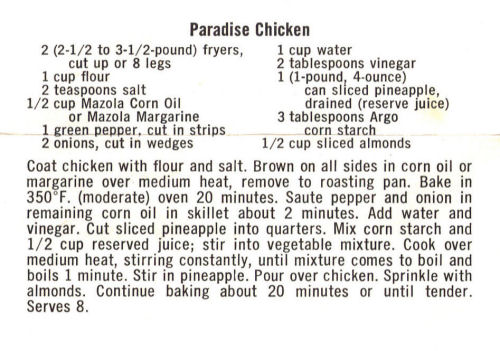 Paradise Chicken
2 (2-1/2 to 3-1/2-pound) fryers, cut up or 8 legs
1 cup flour
2 teaspoons salt
1/2 cup Mazola Corn Oil or Mazola Margarine
1 green pepper, cut in strips
2 onions, cut in wedges
1 cup water
2 tablespoons vinegar
1 (1-pound, 4-ounce) can sliced pineapple, drained (reserve juice)
3 tablespoons Argo corn starch
1/2 cup sliced almonds
Coat chicken with flour and salt. Brown on all sides in corn oil or margarine over medium heat, remove to roasting pan. Bake in 350°F. (moderate) oven 20 minutes. Saute pepper and onion in remaining corn oil in skillet about 2 minutes. Add water and vinegar. Cut sliced pineapple into quarters. Mix corn starch and 1/2 cup reserved juice; stir into vegetable mixture. Cook over medium heat, stirring constantly, until mixture comes to boil and boils 1 minute. Stir in pineapple. Pour over chicken. Sprinkle with almonds. Continue baking about 20 minutes or until tender. Serves 8.
More Recipes For You To Enjoy: